The Independent Recourse Mechanism has presented its inaugural "Accountability in Action" Awards to recipient stakeholders in Kenya and Burundi
By Rabi Thapa
When environmental lawyer Nixon Sifuna began representing more than 500 people affected by a project in Kenya as part of a compliance review by the Independent Recourse Mechanism, it was important to him to first get to know them well.
"We ate the same food. I sat on the ground and worked with them. I told them I was a part of their families," he said, describing his interactions in reviewing a project in Kenya funded by the African Development Bank (AfDB). "When you are in training to be a lawyer, you are told that you should feel apart from your clients. But when you are doing public interest litigation, you have to feel that you are part of it. You have to be one of them."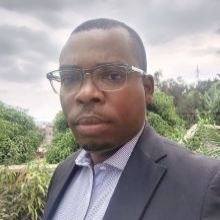 Such dedication to accountability has not gone unnoticed. Earlier this year, the Independent Recourse Mechanism (IRM) announced that Nixon Sifuna and Régis Mpawaneyo, Director of the Roads Agency of Burundi, were the joint winners of the 2022 Accountability in Action Award. Mpawaneyo played a key part in resolving a dispute between parties to a separate complaint registered with the IRM concerning an AfDB-funded road infrastructure project.
"It gives me a feeling of satisfaction to have contributed to finding a solution to a problem," Mpawaneyo said in an interview with the IRM. "The case was about a road that went through the property of a family, which was one of the most important things it owned. Holding the representatives of government responsible in taking into consideration the value that things can have for a family is very important."
Delphine Vakunta, Communication & External Relations, AfDB, said that the award "acknowledges the critical importance that accountability plays in the Bank's overall objective, which is poverty elimination and sustainable development. It recognizes individuals and organizations that have made any kind of notable contribution around accountability within the context of IRM complaint-handling processes for AfDB-funded projects."
This year, the IRM's Stakeholder Advisory Council, which was responsible for making the final selection, recommended two winners.
"We were quite impressed to receive a number of nominations from different parts of Africa, which reflects a growing awareness of accountability," said Damilola Olawuyi, Chairperson of the Council. The Stakeholder Advisory Council, which consists of nine members from public, private, and non-profit sectors, all of whom have extensive backgrounds in accountability, oversaw the selection process. In calling for nominations, Olawuyi said in an interview with Accountability Matters, "We looked for stakeholders who are advancing fair and effective complaint-handling accountability mechanisms. Do they exemplify accountability, transparency, fairness in what they're doing? These are not just buzzwords, they are meant to underline what the African Development Bank is looking for, and is open to promote in the development, design, and implementation of development projects."
The Council also looked at the track record of nominees, considering more recent, specific contributions alongside longer-term involvement in accountability. "Avoiding a flash-in-the-pan effect is very important for us because we want to be sure that there is indeed a record of commitment," Olawuyi said.
For this year's winners, the committee chose two people who played very different roles in the accountability process.
In Kenya, community members opposed to the Kapenguria-Makutano Towns Sewerage Project selected Sifuna to represent them in the complaint-handling process because of his specific experience as an environmental lawyer. While complainants may represent themselves, sometimes project-affected people prefer to have the help of an NGO or a trusted person in the community.
"I do a lot of public interest environmental litigation," Sifuna said. "The case was referred to me by a client who told the community that they needed a lawyer who has a passion for the public interest and an environmental background."
Sifuna steered the community toward registering a complaint with the IRM, then shepherded them through the process of voicing their concerns about the sewerage project. Ultimately, the IRM found that the AfDB was not in compliance with some aspects of its social and environmental policies, which contributed to the eventual relocation of the project.
"We found a very transparent mechanism," Sifuna said of the process of compliance review in an interview with the IRM. "I'm happy that I've been nominated for this award, but there are so many players I could mention, including the IRM compliance review officers on the ground."
Mpawaneyo played a key role in resolving a complaint related to the Nyakararo-Mwaro-Gitega Road Upgrade and Asphalting Project in Burundi, which went through a dispute resolution process.
As Director of the Burundian Government's Road Agency, he was one of the Parties involved in the complaint. The Stakeholder Advisory Council Selection Committee found that he played a key role in building and maintaining trust with the complainants, and that helped pave the way for the successful resolution of the complaint.
The experience has inspired Mpawaneyo to continue to work in the field of accountability. "I will try to develop a mechanism or a small NGO to raise the awareness of the populations that can be affected by the projects," he said. In the future, he hopes to engage with development banks to raise awareness on the kinds of issues that can negatively affect communities as a result of development projects.
Olawuyi, Chair of the Council, said that the dual benefit of the award was to raise public awareness of accountability and encourage awardees and nominees to continue their good work.
"The ultimate objective of the whole award process is to develop accountability champions," he said. "So that badge of honor that we've conferred on them, we hope, will inspire the winners to do more. Nixon Sifuna and Régis Mpawaneyo have demonstrated exceptional commitment to accountability, fairness, and collaboration. We are deeply proud to honor their achievements."
Orla Said contributed to this story.